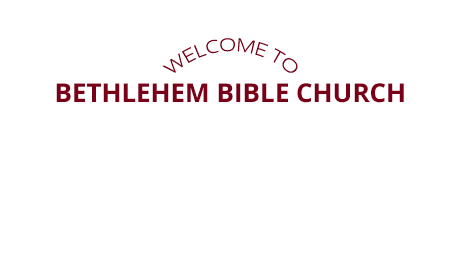 Sun. Morning Worship 7:30AM & 11:00AM
Sun. School 9:30AM Youth Services Mon. 5:30PM
Young Adult Bible Study 6:00PM -7:00PM
Tues. Night Bible Study 6:00PM
Women's Mid-Day Prayer 11:00AM – 12:30PM
Women's Empowerment 6:30PM
Get Connected with Bethlehem Bible Church
A new commandment I give unto you, That ye love one another; as I have loved you, that ye also love one another.
By this shall all men know that ye are my disciples, if ye have love one to another." John 13:34-35 King James Version (KJV)
Fellowship is the God-given purpose of the church. Help where you can make not just yourself, but the church as a whole, to be the most fruitful. If you do not know your spiritual gift, pitch in where you have a natural ability. As you work with others, your gifts will surface and you'll find places you might function in our church according to your gifts and abilities. Join us on Social Media!
WEEK_RANGE_LABEL

DAY_LABEL

MONTH_LABEL

YEAR_LABEL
-

-

-

-

-

-

-

-

-

-

-

-

-

-

-

-

-

-

-

-

-
-

-

-

-

-

-

-

-

-

-

-

-

-

-

-

-

-

-

-

-

-
You have no events for this day
stec_replace_image
stec_replace_icon
stec_replace_summary
stec_replace_desc_short
Expired
In Progress
stec_replace_location
stec_replace_timespan
Create an event
All events must be approved by our moderators before they go live
Event Info

Location

Schedule

Guests

Attendance

Forecast

Comments
stec_replace_summary
stec_replace_description
Visit Website
0

days

0

hours

0

minutes

0

seconds
Event expired
Event is in progress
Location
stec_replace_location
Get Directions
Could not find route!
Details
stec_replace_details
No schedule
stec_replace_date stec_replace_time
You are invited to this event!
stec_replace_name
Weather data is currently not available for this location
Weather Report
Today stec_replace_today_date
stec_replace_current_summary_text
stec_replace_current_temp °stec_replace_current_temp_units
Wind stec_replace_current_wind stec_replace_current_wind_units stec_replace_current_wind_direction
Humidity stec_replace_current_humidity %
Feels like stec_replace_current_feels_like °stec_replace_current_temp_units
Forecast
stec_replace_date
stec_replace_icon_div
stec_replace_min / stec_replace_max °stec_replace_temp_units
stec_replace_5days
Powered by Forecast.io
The Importance of Tithing
A new commandment I give unto you, That ye love one another; as I have loved you, that ye also love one another.
By this shall all men know that ye are my disciples, if ye have love one to another." John 13:34-35 King James Version (KJV)
Throughout Scripture, we are encouraged to give the first part of our resources to God as an expression of honor and gratitude. "Honor the Lord with thy substance, and with the firstfruits of all thine increase: so shall thy barns be filled with plenty, and thy presses shall burst out with new wine" (Proverbs 3:9–10).